Barcelona–El Prat Airport
, is an international airport located 12 km southwest of the centre of Barcelona.It has a good connection with city and the region.
Metro system
The line L9 (orange) connects the airport with Barcelona city. This line is divided between North and South, being the
L9 South line
the one that links between Barcelona's airport and the various metro stations in the city.The L9 South line stops at both terminals 1 and 2 of Barcelona airport.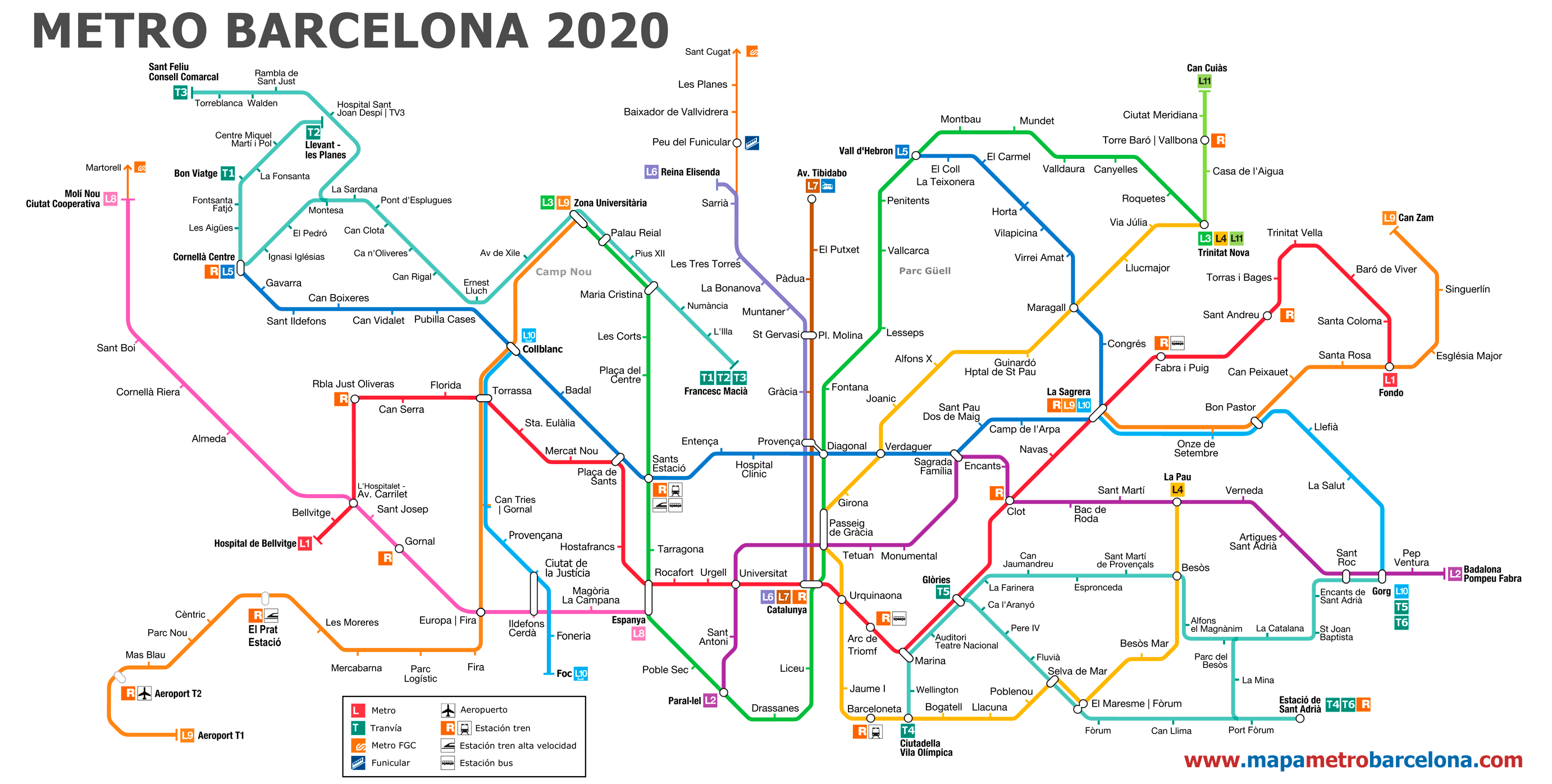 As described above, the line that stops at Barcelona airport is L9 South line. In order to reach Barcelona city center, the passenger must make a change of line and take the line L1, L5 or L3.
There are various ticket options to travel through the metro lines at Barcelona.The city center of Barcelona and all the metro lines are included in 1 Zone.Fares for one way (zone 1) to reach Barcelona airport from any station of Barcelona network metro: €4.50.More info
here.
In Barcelona the metro lines stop at midnight and start to run at 5 am every day with the exception of the night from Saturday to Sunday, when it runs 24 hours.
On Friday night (from Friday to Saturday) the metro service stops at 2 am and starts at 5 am.
Train
The L2 Line of RENFE links the
Terminal 2
of Barcelona airport with various train stations.In Barcelona city, passengers can reach the "Airport Train" from the following train stations: Passeig de Gràcia, Barcelona Sants Station, el Prat (Line R2 North) and from Estació de França Station passengers must take the R2 train line South.Trains depart every 30 minutes more or less. It is recommended to travel with time, RENFE trains are usually delayed.Check
official website
and
schedule.
If travellers take the RENFE train, the train stops at Terminal 2 of Barcelona airport, they can reach the various shuttle buses that run between both terminals 1 and 2. To get more information, read
transportation between terminals.
Aerobús
Aerobús is a private company that links various locations from Barcelona city center to both terminals at Barcelona airport. The ticket price is a little bit more expensive than reaching the airport by metro or train but it is a safe and easy method of transportation.
Stops of Aerobús are: Barcelona Plaça Catalunya, Sepúlveda-Urgell, Pl. Espanya, Terminal 1/Terminal 2.Please, make sure which terminal passengers need to reach. Aerobús bus lines run separately to Terminal 1 and Terminal 2.All Aerobus lines mark clearly the terminal that they reach.
At the airport, Aerobus stops are located outside both terminals. Buses are blue and marked as "Aerobus".In general, buses run from 5 am / 5.30 am to 00.30 am / 01.00 am. Before reaching any Aerobús station, it is recommended to check the timetable at the
website
.
Taxi
Taxi stops are in front of terminals 1 and 2. Taxicab run 24 hours daily.The vehicles are colored with black/yellow colors.Fares are charged depending of the hour that passengers take a taxi: day or night.
At the airport (Entry/Exit) there is a supplement of € 3.10 and the minimum stroke and out the airport is 20 euros (including the supplement). Depending on where you have to go or if it's a festivity day it can be other supplements.
In general, from Barcelona airport to the city center is about 25-30 euros.
See below the taxi companies serving Barcelona Airport:
Barcelona Airport Taxis: 932 20 06 84
Taxi Services Barcelona: 602 10 42 19
If you want to find more information visit
Barcelona airport website.